A few of you may remember my Top 10 style icons piece I wrote a couple of weeks ago. Those of you who actually read it will remember that I featured the uber stylish Chloe Raunet from London synth-led trio Battant, whom I saw play a killer set in Glasgows Sub Club. Well, I thought that it was only fitting that Battant have a feature to themselves, since I have developed a massive, massive band crush on them. The band answer my now staple questions about their takes on style
du jour
, and whats new in Battantville...
1) Hello there. Hows things, and whats been going on in the world of Battant?
Chloe:
Things are good thanks. Our album has only just been released in the UK. We're doing a bit of touring here, getting ready for a larger tour this autumn and beginning to work on the next album.
Joel:
Looking forward to going to St Tropez and sitting on a beach.
2) What are your plans in terms of yr music for the next few months?
J
: Learn as many instruments as possible and try and write an album with my new found musical talents.
3)How would you describe your style?
CR:
Musically? Raw, lean, unhinged, analogue pop. Fashion? I dunno… boyish?
J
: A Larry Clark street rat.
Tim
: Starving artisan chic
4) In terms of fashion, who and what are your influences?
CR:
My father, circa 1952.
T:
1920's French factory workers, beatniks, squat party ravers
5) If you could trade wardrobes with one person, who would it be
and why?
CR:
I don't think I'd wanna swap wardrobes. I quite like what's in mine and the thought of wearing someone else's knickers grosses me out.
J:
Nice... Henry VII. Just to know what that would feel like.
T:
Probably a young Gene Vincent or Eddie Cochran – if I could pull it off
6)Where are your favourite places to shop?
CR
: I got a secret vintage spot in Paris – this lady who's not open to the public but has the most amazing collection of pre-1960's dead stock.
T:
Second hand shops and markets.
J: Army surplus stores. Places that sell clothes that fit me. I'm quite small. Shopping can be a bit of a headache.

7)What items in your wardrobe hold particular sentimental value to you?
T:
My LEVIS replica 1940's air force jacket. I have had it years, it's falling apart but I love it. Or my Churches brougues.
CR:
An Edwardian leather utility bag I received from my lover last X-Mas, weird silk faux-bomber I bought visiting my sister in Taiwan, my gramma'sCowachan sweater
J:
Anything that's been given to me by a friend.

8) What significance do you think fashion holds to todays youth?
CR:
Same significance it's held for the past 6 decades. Superficial identity.
J:
Ha. Invention, Re-invention and a lot of cliche.
T:
Pretty much the same thing since the invention of the
teenager – who you are, what you're into.
9)What are your biggest ever fashion mistakes?!
CR:
I've had my fair share of ropey haircuts but hold no regrets.
T:
There could be a long list… the big dyed black glam hair was a low point.
J:
I dyed my hair a bad colour. Then it went plum. That was pretty bad. Then i had to shave my hair off. That wasn't so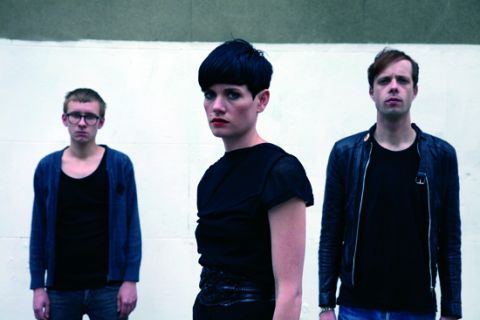 bad...


10)What are your three golden style rules?
T:
Pull up your trousers, wear proper shoes, no stretch denim
CR:
1) wear polka-dots with caution 2) have matching socks 3) make sure your shoe-laces aren't too long.
J:
1) Dungarees are fine. 2) If your mum likes it wear it. 3) Buy loads of accessories.
http://myspace.com/battantbattant
© Copyright Betti Hunter 2009